Creating unique elopement honeymoon adventures
Costa Rica is the perfect place for an elopement adventure. Our trips cost a fraction of a traditional wedding and best of all it includes a honeymoon you will never forget! Here you will find all the information you need for your elopement or destination wedding in Costa Rica.
If you are looking for a unique destination elopement adventure honeymoon, you have come to the right place! Not everyone wants to have a traditional wedding. The stress of planning a big wedding, the costs, the logistics, running away to elope in Costa Rica can be the solution!
Elope in Costa Rica(.com) makes the planning easy and fun! Fill out our online elopement/honeymoon builder and your travel planner will be in contact with you within 24 hours. From there your customized elopement adventure  will take shape. We can handle every aspect of the wedding and trip including the legal documents, officiant, music, hair/makeup, flowers, cake, we can take care of all requests. Browse our elope in Costa Rica website for info on the laws, locations, and what to consider for your trip! If you are planning an elopement, vow renewal, anniversary trip, or honeymoon, we look forward to hearing from you!

Testimonials
Couldn't recommend Catalina enough! had the most amazing elopement/honeymoon! Everything went according to plan and the simple ceremony was BEAUTIFUL! Thank You!

We just spent our 30th wedding anniversary in Costa Rica. We had the time of our lives! Thanks to the help of Catalina and her team (who planned 99% of our trip), everything was so easy and well planned! We are already looking forward to the next trip!
Have to say thank you so much for helping us plan our honeymoon. We had the most amazing time and the team was able to accommodate all of our requests including a change of tour time two days before travel! Costa Rica is such a beautiful country with so much to see that it is impossible to cover everything in one trip. Having a local planner took so much stress out of organizing and everything ran so smoothly! Pura Vida!!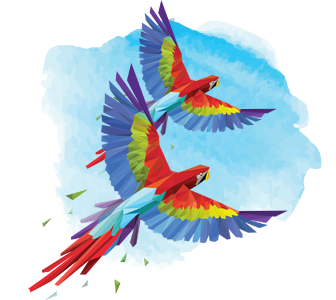 Did you know that Scarlet Macaws mate for life?!? This was the perfect image of beauty we wanted to express, representing both love and devotion. You will see nesting pairs of Scarlet Macaws on your adventure and you will know that they are together forever! 🙂